Azerbaijan – Exploring the Soviet Vestiges
After a hiatus, once again the husband and I decided to quench our thirst to explore the Middle East. This time we had a little addition to our travel exploits. Our son was turning one and we decided to gift him a taste of Azerbaijan – the land of friendly folks and nature's marvels. We reckon this as the perfect birthday treat to our son, who's one and all fun! So, here are a few must see things in Azerbaijan during this summer.
Baku, the fun capital
We landed in Baku by 3 pm and after checking in at our Hotel, we immediately ventured out to explore the beautiful city. The travel was exhausting but the greed to explore won over our tired body. Needless to say, we had a beautiful evening spent in Baku.  As we chose our stay in old Baku, we were able to explore a little bit on our own. We had a quick look at the Maiden Tower, a 12th-century monument, which was near to our hotel. Walking through the alleys of the ancient city and munching on some Qutab (must try Azerbaijan delicacy) were more than gratifying. The soviet model buildings, the stoned alleys and some Azerbaijani music escalated the happy atmosphere.
After a stroll, we got into our car to visit Yanardag, Hyder Aliyev Museum and Love Park. Unfortunately, Yanardag was closed for reasons unknown. The day was long and the sun refused to set (it was 8 pm). The sky was still azure, and we couldn't help be awestruck at the late sunset that this country is used to.
We headed to our next destination: Hyder Aliyev centre. A coveted architectural marvel, Hyder Aliyev Centre is a visual treat to tourists visiting Azerbaijan. Posing in front of the 'I love Baku' sign with the magnificent building at the background makes this a perfect feed to your Instagram/Facebook stories. The centre has an entry fee to see the country's cultural artefacts. As the outside was captivating enough, we decided not to see its interiors and that saved us some bucks.
On the third day, after returning from Gabala, we had a slice of Baku. We went for a night tour to Martyrs' Lane, Highland Park, Flame towers and Fountain Square. Take note to visit these places after dusk, so that you get the feel of the city and its exuberance.  This time we stayed in an apartment at Nizam street as these places were at walking distance.
The next day was quite exhaustive for we covered the mud volcanoes, fire temple and Yanardag.  The abundance of natural gas and oil are ostensibly translated into these three wonders.  Situated in Gobustan, the mud volcanoes are nature's gift to Azerbaijan. The mud from the volcanoes is said to have medicinal properties and are quite cool when touched. Taking a bumpy ride in soviet model cars to this site is worth the effort. Since our driver was an expert we didn't have to take one. Our car went right up to the place.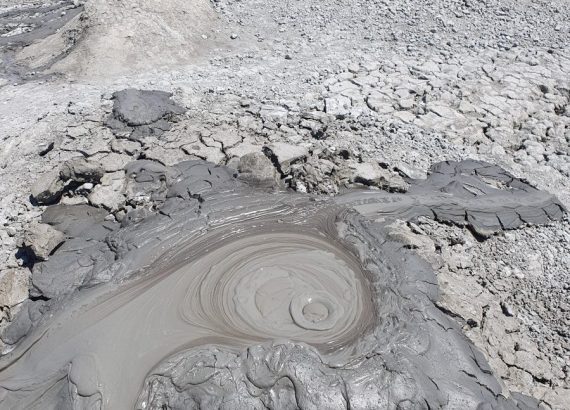 Yanardag, popularly known as the burning Mountain is yet another gaseous miracle of Azerbaijan.  It's quite intriguing to see the earth literally burn with no fuel. At a glance, it's just some plain sand on fire. But on closer look, you realise the splendour of Science. The area being rich in natural gas ignites these flames. These flames have been burning since time immemorial; continuing to awe its visitors.
The Ateshgah Fire temple is a spectacle that proves Azerbaijan as a land of fire. This fire temple was built around the 17th century and the flame was once from a natural gas vent. (The flames today are from Baku's main gas supply) The temple was once a place of worship for Zoroastrians and Hindus, now it functions as a museum too. The chambers, surrounding the fire altar, boast of installations and artefacts that give us an insight into the history and religious practices of Azerbaija
Quaint Gabala
Nestled amidst the Caucasus, this serene city is a perfect getaway from the monotony of life. The mighty mountains, the serene lake, and the rustic atmosphere make Gabala a paradise. A four-hour drive from Baku, this charming city is a popular ski destination during winter.
The panoramic view of the mountains is best experienced through a thrilling cable car ride. Tufandang Winter Summer Tourism complex offers a two-level cable car ride that is fascinating. The exhilarating ride along the picturesque mountains was beyond sublime. The day couldn't have been any better. Our son turned one in these mighty mountains. Amazed by the platter that nature offered warmly, he had his B-Day cake while we indulged in some wine and steak.
We also visited the Gabala Land and strolled along the banks of the Noghorgol Lake. The best was the Yeddi  Gozal Waterfall. Soviet model cars go a little closer and from there you have to trek to reach the top. We were dog tired, for climbing with a one-year-old is no joke. But the sheer beauty and greenery kept our spirits alive.
Do not miss to visit Diri Baba Mausoleum in Gobustan and have a sumptuous lunch amidst the wilderness of Ismayilli forest. Both are en route Gabala. The mausoleum is subtly built around a cliff and is quite scenic. This tomb of the Sufi saint is definitely worth seeing.
Food and People
Azerbaijan is also known as a land of fire. And fire epitomising purity and innocence is sure reflected in the hospitality of the folks living here. From the humble folks of the mountains to the officials of the city, smile and warmth are emanated in abundance.  Needless to say, I was more than impressed by the people here.
Plov (more like Kabsa of Middle East) is a must-try Azerbaijani cuisine that gratifies your appetite. Qutab is another popular delicacy of this country. Qutabs are flatbreads with fillings such as meat, cheese, spinach, pumpkin. Their Kebabs and all meat dishes are succulent and flavourful. Shawarmas, especially from Nizam street in Baku, sure gives you a foodgasm. (I can vouch for it, and damn they are better than the ones in the Middle East). Food in Azerbaijan is sheer heaven. You can indulge into an assortment of delicacies that this country offers.
A year of motherhood was indeed challenging. And this trip to this little nation of friendly folks, dashing destinations and flavourful food was a magic potion best given to my dreary mind. Azerbaijan was the Spring I had after a bleak winter. Looking forward to see many such springs!